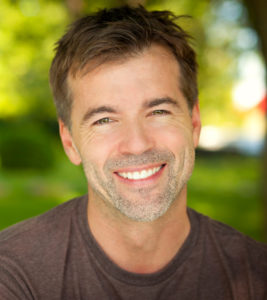 Whether you have a tooth in need of repair, or you need a replacement for a missing tooth, modern dentistry has reliable and effective options for you. Dr. Jonathon Mears and Dr. Laura Mears can help restore and even enhance your smile. At JL Dental we strive to meet all of our patients' dental needs in one stop, so you'll rarely ever go elsewhere for care. Here we'll discuss the difference between crowns and dental implants so you can make educated decisions about your treatment and your oral health.
What is a Dental Crown?
For a tooth that's been damaged beyond the scope of what a dental filling can repair, Dr. Mears will likely recommend a crown for you.
Dental crowns
are designed to fit over your damaged tooth like a cap. It essentially replaces the full function of your tooth, while protecting your root. Crowns are ideal for repairing:
·

Excessive wear and damage
·

Chipping and fractures
·

Broken teeth
·

A tooth that has had root canal therapy
What is a Dental Implant?
For patients who've lived with one or more missing teeth, an
implant
is the best option dentistry has to offer. This is because it replaces both your root and your tooth, and protects the integrity of your oral health. A biocompatible titanium post is surgically placed into your bone to take the place of your root. After it's allowed to heal and integrate with your bone, a porcelain crown is placed to restore your tooth.
With an implant you'll enjoy the same function you had with your natural tooth, which means that you'll be able to eat, chew, smile and talk as you were used to. You'll also be able to brush and floss like you normally would, and with excellent home care, your implant has the potential to last for many years, and for a lifetime in some cases.
At JL Dental, our team is well equipped to help you with any type of dental situation you may be experiencing. Unlike other dental offices, we can both place and restore your dental implant in the comfort of our own office, which means that you don't have to go elsewhere for surgery. We use only the finest dental materials in the industry, so whether you receive a regular crown or an implant crown, you'll be receiving a restoration you can trust.
Contact our office today to learn more and schedule your appointment, we'll help you determine which type of treatment is right for your lifestyle, needs and budget.