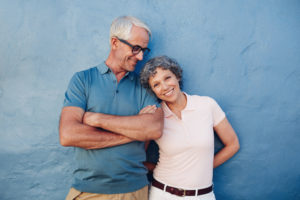 Adults and older teens who have lost one or more teeth to gum disease, decay or injury can enjoy a full set of strong, beautiful teeth through the modern tooth replacement option called the dental implant. Placed by your dentists in Arnold, Drs. Jonathan and Laura Mears, the dental implant in Arnold is a true artificial tooth from root to crown, conferring natural form, feel and function and also strengthening the underlying jawbone. It offers several benefits over traditional dental prosthetics and stays in place for years.
Who Can Receive a Dental Implant?
Dr. Mears evaluates each prospective implant patient to see if he or she is truly a candidate.
Good systemic and dental health are required as is sufficient bone density in the alveolar ridge
to accept the implant device.
After careful imaging , visual inspection and formulation of treatment plan, the dentist numbs the area and drills a pilot hole in the jaw. Then, he or she places the titanium screw which functions as the new tooth root. After several weeks of healing, the doctor bonds a metal alloy and custom-fabricated porcelain crown to the implant. With some minor bite adjustments, the durable and natural-looking new tooth is complete.
The Dental Implant Has Many Advantages
Bone deterioration is an devastating consequence of tooth loss. Without the biting and chewing forces exerted by a natural tooth, the jaw bone loses width, height and density. The dental implant, however, actually exercises the jaw keeping it strong, and the titanium in the device bonds remarkably well to bone through a process termed
osseointegration.
As a result, smiles restored with dental implants retain their youthful appearance with no skin wrinkling or sagging, and patients report that their implants look, feel and work like real teeth. Unlike speech with some types of dentures, talking with implants is perfectly normal with no slurring or lisping.
In fact, no one but the patient and the dentist knows which teeth are real and which are dental implants. As such, great self-confidence is an
outstanding benefit
of dental implants.
Besides superior aesthetics and normalized eating and speech, dental implants may support
bridgework or fixed or removable dentures. Again, the implants strengthen the jawbone and create a great foundation for the prosthetic teeth.
Additionally, unlike bridges or partial dentures, implants require no enamel preparation on adjacent teeth and are easily maintained with regular brushing, flossing, dental exams and cleanings at JL Dental.
With diligent care, dental implants last for decades. The American Academy of Implant Dentistry says implants are far more predictable and long-lasting than other replacement choices. So, while they cost more at the outset, dental implants are more budget-friendly in the long run.
Why Not Learn More?
Please
contact JL Dental
to explore the advantages of dental implants. Dr. Mears will help you decide if they are the right option for your healthy smile.