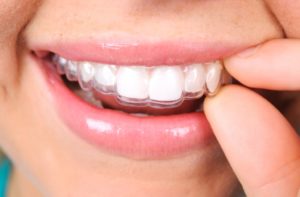 You've had it with your smile – every time you grin, you're embarrassed because of the crookedness and the gap right in the front. You want to finally get the straight teeth you've longed for your entire life, but the idea of traditional metal braces that call more attention to your issues doesn't sit well with you. You wish there was an affordable alternative to straighten your teeth – luckily for you, ClearCorrect from JL Dental, your dentist in Arnold, can give you everything you're looking for. In this post, find out about this invisible straightening treatment that produces great results for children and adults.
What Is ClearCorrect?
ClearCorrect
is a system of clear aligners that gradually straightens your teeth. You'll have a professional impression of your existing bite taken by Dr. Jonathan Mears or Dr. Laura Mears, and then you'll receive the aligners that are custom-made for you by a lab that's located in Dallas, TX. Since ClearCorrect is made in the USA, you'll save money and time when they're shipped to you.
Your ClearCorrect will be sent to you in one shipment and they'll be numbered for your convenience. Simply wear the trays in order and switch to a new pair about every two weeks – you'll be amazed by the results.
Why Is ClearCorrect The Clear Winner Over Traditional Braces?
The Drs. Mears explain that these clear aligners are the superior choice over metal braces for many reasons:
·

        
Invisible Treatment
– If your teeth are crooked, there's a good chance that you'd rather not call more attention to the problem with a metallic grin. These aligners are practically invisible and remarkably thin, yet effective. The only person who'll know you're undergoing treatment is you.
·

        
Treats All Ages
– Since there's no age limit or requirement, both kids and adults benefit from ClearCorrect. We all know how teasing can affect youngsters, so children and teenagers benefit from the clear aligners that no one can see. And, adults won't have to worry about looking like they're kids again like they would with traditional metal braces.
·

        
Time
– Most patients complete treatment in 6-18 months. And, since you won't need to visit us every two weeks to have your braces adjusted, you'll save time with fewer dental appointments.
·

        
Balanced Diet
– ClearCorrect is unique because you'll remove the aligners when you eat. That means you can still enjoy a balanced diet – including carrots, apples, and corn on the cob. And, you can indulge in popcorn and chewy caramels, too.
·

        
Comfort
– You'll never have to deal with nicks and cuts to your cheeks, tongue, and lips from metal braces – and you can say goodbye to icky dental wax. ClearCorrect is virtually pain-free, and the gentle pressure used to move your teeth into place is so comfortable, you may even forget you're wearing them.
·

        
Effective
– Since ClearCorrect is invisible, patients often wonder if this treatment really works. We can assure you completely that you'll get your perfect smile. And, if you don't believe us, see for yourself and check out these
amazing results
.
Now that you know all that ClearCorrect can do for you,
schedule your appointment
with JL Dental today, and get the smile that's worthy of you, no matter what age you are!