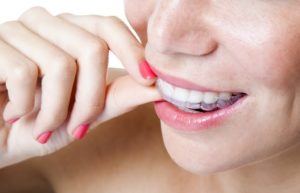 Patients with a noticeable overbite tend to have negatively affected confidence and an uncomfortable bite. Sometimes, it may affect your work and personal life. Even with that being said, many patients refuse to speak to an orthodontist in Arnold because the metal brackets and wires of traditional braces are considered even more embarrassing—not to mention those bright, attention-grabbing elastic bands! Thankfully, you've come across this post. JL Dental offer a quick, mature straightening treatment that can help you achieve the results you want:
ClearCorrect
clear braces.
ClearCorrect Clear Braces
Finally, there's a straightening treatment that can realign your teeth without the embarrassment that traditional braces cause. This treatment is perfect for patients of all ages, especially adults with smile flaws. Your dentist in Arnold, either
Dr. Laura or Jonathan Mears
, works closely with ClearCorrect professionals to create custom aligners specifically for your smile. These practically invisible braces will be planned to gradually correct your smile. Our patients, new and returning, can correct various orthodontic imperfections:
•
Crowded teeth
•
Wide gaps
•
Crossbites
•
Overbites
•
Crooked teeth
Benefits of ClearCorrect Clear Braces
Straightening your teeth alone has plenty of benefits, but you'll get additional benefits from selecting ClearCorrect clear braces as your orthodontic treatment.
Less Soft Tissue Injuries
Injuries to your lips and cheeks are common when you have traditional braces. Sometimes the orthodontic treatment may become loose and poke out on the sides. In worse cases, a dental emergency like a hard blow to the mouth can escalate quickly if you have traditional braces. With ClearCorrect clear braces, you don't have to worry about increased injuries. The aligners are crafted from smooth plastic that won't irritate your cheeks and gums.
No Food Restrictions
One of the first things that turn patients away from traditional orthodontics is the fact that they'll have to alter their diet. This directly affects your daily life and can make special occasions less enjoyable, too. The following foods are forbidden with traditional braces, but not with ClearCorrect clear braces!
•
Hard candies
•
Chewy foods
•
Sticky foods
•
Popcorn, seeds, and nuts
•
Crunchy foods
Easy Dental Routine
Patients love that their dental treatment is removable. Keep in mind, for it to work effectively, you should wear your clear aligners at least 22 hours a day. But, when it comes to eating and most importantly—brushing and flossing your teeth—you don't have to worry about changing your routines. Brushing twice a day and flossing is just as easy as normally taking care of your natural smile.
Invisible Treatment
No matter what age you are, everyone wants to look their best. Unfortunately, you can't hide metal braces, but ClearCorrect is practically done in secret! Your custom aligners are so see through that only the people you choose to tell will know you're undergoing a straightening treatment.
Visit JL Dental
The thought of straightening your teeth is exciting!
Contact our office
to make that daydream a reality! Our friendly dental office would be happy to schedule a consultation for you.