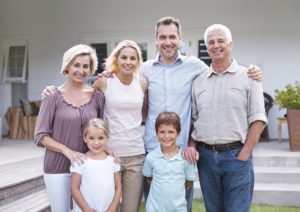 As a busy parent, scheduling multiple dental appointments at different offices takes way too much time, but everyone needs to take care of their teeth, so you just have to make it work. Isn't there a better way to do this? Can't you find a dental practice that can treat your whole family, children and adults alike? If this sounds like you, then a family dentist may be exactly what you need.
With a family dentist, you and your loved ones can have your teeth taken care of all under one roof
, saving you time and giving you peace of mind all at once. What are some other advantages of visiting a family dentist?
1. One Stop Shop
Your kids have school and extracurricular activities, you have work and parenthood—to say that everyone's time is limited would be a gross understatement.
Part of a family dentist's goal is to make sure your dental care doesn't add to your already busy life, which is why they're happy to provide a
wide range of services
that are ideal for patients of all ages. If your children just need checkups and cleanings and your spouse has a few teeth they need repaired, you can get everything taken care of at one convenient spot. In fact, many family dentists are willing to schedule group appointments where everyone can come in at the same time. All in all, this makes it so much easier to take care of your family's teeth, which means your smiles will probably be much healthier over time.
2. Consistent Care
For a child, building a trusting relationship with their dentist is very important so they can feel comfortable and calm during their appointments, but once they get to a certain age, they often have to change doctors, especially if they are seeing a pediatric dentist.
With a family dentist, they can literally see the same doctor from pre-school all the way through college. Family dentists are able to take care of a person's dental needs throughout their lifetime as things change, which makes it much easier to maintain consistent care over time. Children, teenagers, adults, and seniors can all be served by a family dentist.
3. More Personalized
Since your family will be able to stick with the same family dentist throughout the years, they'll be able to learn everyone's particular wants, needs, and preferences so they can better personalize your care. This will not only make everyone's visits more comfortable, but their care will also be more precise because your dentist will be so familiar with each person's individual smile. With this kind of relationship, going to the dentist won't be some chore you have to do a few times a year, it'll just feel like you're visiting an old friend who just happens to be a dental expert.
With a family dentist, you truly get the best of everything when it comes to convenience, quality, and service. If you want to only have to go one place to take care of everyone's teeth, be sure to contact a family dentist today, and enjoy the years of healthy smiles that are yet to come.
About the Authors
Dr. Jonathan and Laura Mears understand the importance of family dentistry better than most as they are both dentists and parents themselves! They both attended the Southern Illinois School of Dental Medicine, have years of experience providing comprehensive family dentistry, and regularly attend continuing education courses. They are currently accepting new patients and can be contacted through their website.