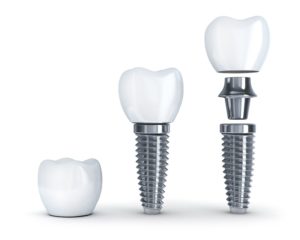 If you are among the
178 million adults
in the United States missing at least one tooth, you know just how difficult life can be if you do not replace your missing teeth. You may have tried conventional methods to replace teeth, such as a dental bridge or partials, but have probably found they come with certain disadvantages. Now, you can benefit from a solution that closely mimics the appearance and function of natural teeth with dental implants. More than 500,000
dental implants
are placed each year because they are permanent, offer over a 95% success rate, and various benefits that are not possible with other options. Where is a dentist near me for dental implants? Look no further. JL Dental has the solutions you need
What are Dental Implants?
Dental implants are the only dental prosthetic to replace both the root and crown of a tooth. They are composed of three main parts: an implant post, an abutment, and a dental crown. The implant post is surgically placed into the jawbone, which creates a secure foundation as the bone naturally fuses to the biocompatible material. The abutment acts as a connector between the implant post and dental crown. The crown is custom-made to provide a natural-looking solution.
What are the Benefits of Dental Implants?
When compared to other forms of tooth replacement, dental implants offer exceptional benefits. Due to the materials and process used to replace a tooth, they function and look like natural teeth. In fact, you gain an increased biting force of over 70% when compared to traditional dentures.
With the use of a titanium, biocompatible post, they are designed to last a lifetime when performed on the ideal candidate. In addition, the use of the post allows them to be the only option that stops bone loss. When a tooth is lost, the jawbone naturally starts to lose density, which can lead to additional tooth loss in the future. However, with dental implants, you preserve the bone density and protect remaining natural teeth from damage.
Are Dental Implants Right for Me?
When used on the ideal candidate, dental implants in Arnold are the most predictable and effective form of tooth replacement. You must have healthy gums to reduce the risk for implant failure. With infection the biggest threat for failure, you must be committed to proper dental hygiene. You cannot have any medical conditions that increase your risk for infection or reduce the body's ability to heal. In addition, you cannot have lifestyle habits, like smoking, that raise your risk for infection.
You must also have healthy bones and adequate density to support the implant post. If you have bone disorders, you may not be a candidate. In addition, you must have proper density. However, even if you have bone loss, you may still benefit from the procedure with bone grafting.
Where Can I Get Dental Implants?
If you are ready to replace your missing teeth with the best option available, it is time to
schedule your consultation
with JL Dental. We will help you restore your smile with the most preferred dental prosthetic.