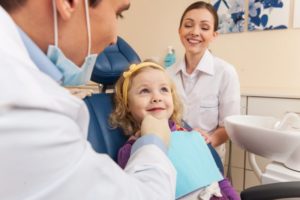 Does your child or teen complain about the brightness of their teeth—or lack thereof? It can be difficult to decide whether or not to invest in whitening products for your child if you don't have all the information you need to make an informed decision. Plus, you would like to explore teeth whitening from a professional as well.
Well, if you want to help your child achieve their smile goals, your kid's dentist is here to set the record straight about teeth whitening for children's smiles.
Is Teeth Whitening Safe for Your Child?
If you visit your dentist to discuss teeth whitening for your child, they will most likely tell you that their mouths are too underdeveloped to really brighten their teeth safely. The same goes for trying to change the discoloration of their teeth with whitening strips.
Here are a few reasons why you shouldn't try whitening products on your child's teeth:
Hydrogen Peroxide Isn't Safe for a Child's Mouth.
Hydrogen peroxide in low concentrations is typically safe for the adult mouth, but these at-home bleaching products may be too strong for your little one's smile. If they are younger than 15 years of age, your family dentist wouldn't recommend them.
There Hasn't Been Enough Evidence to Support It.
Because most children are less worried about aesthetics than adults, there haven't been enough studies conducted to determine that whitening children's teeth is completely safe. Without that concrete evidence, health organizations will not make a definitive ruling on whitening for children and teen mouths.
Your Child May Not Follow Directions Correctly.
Adults have the critical thinking skills and common sense to follow directions precisely to protect their oral health when whitening their teeth. On the other hand, children cannot always be trusted to follow directions specifically and could risk damaging their teeth, gums, or soft tissues—not to mention bleaching items in your house!
Your Child's Teeth Could Become Sensitive.
Tooth sensitivity is another risk that your child could have to face. That's why professional teeth whitening treatments aren't a good idea unless it's for an adult's mouth. Plus, whitening products at home that are left on the teeth too long could lead to tooth sensitivity.
What is a Better Alternative?
If your child desperately wants their teeth to be whiter, you should discuss improving their oral hygiene routine with them. Excellent brushing, flossing, and even a gentle whitening mouthwash can help to keep their smile whiter than before. Also, offer to schedule an appointment with their dentist to discuss the best ways to achieve those pearly whites they truly desire.
If you are ready to help your family achieve their smile goals, you can always rely on a local dentist for assistance.
---
About Our Office
Here at JL Dental, we know that even the youngest members of your family want attractive smiles, too. That's why we work one on one with each patient—even children and teens—to help them achieve their smile goals in a safe, effective way. Contact us today to learn more about how we can help you and your family.