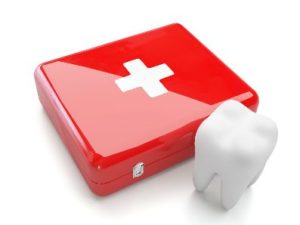 It's Saturday afternoon and you're enjoying your weekend with your family. As usual, you've taken your kids to the park after lunch to play on the playground, which is one of their favorite things to do. All of the sudden you hear a terrible cracking noise, followed by the unmistakable sound of your child crying. When you run over you see that they've fallen and broken their front tooth – a permanent one! As you frantically scoop them up along with the broken piece of tooth, you realize that you aren't quite sure what to do because it's a Saturday and your dentist's office is closed.
If you've ever found yourself in a situation like this and would like to know more in case it ever happens again, not to worry. In this blog, we'll review some common scenarios as well as when to contact your emergency dentist in Arnold.
Common Dental Emergencies
Toothache – If you have pain, swelling, or a pimple-like bump on your gum, you may have an infection or abscessed tooth. Until you can be seen you can take over-the-counter pain medication and gently apply ice for 20 minutes at a time.
Broken Tooth – If possible, bring the broken piece of the tooth with you to the dentist. Avoid eating anything hard or crunchy in the meantime, as you could break the tooth even further.
Lost Crown – Losing a crown usually happens during a meal, so hopefully you're able to catch it before swallowing it! Put the crown in a plastic bag to bring to your appointment. It can be tempting to use super glue or another kind of adhesive to reattach the crown, but this is best avoided as it can make treatment more difficult.
Knocked-Out Tooth – In this case, it's crucial to keep the tooth moist! You can gently rinse it off, but do not try to clean it by wiping it with a cloth. If possible, put the tooth back in its socket, facing the right way. If that isn't possible, put it in a cup of liquid (preferably milk, although saliva or water will do) until you can be seen.
The Importance of Seeing Your Dentist as Soon as Possible
In an emergency, you may be wondering if you can find a 'dentist near me' that can see you, even outside of regular office hours. Rest assured that we make it a priority to be available for you and your family as much as possible!
Always call our office immediately, even on a weekend. That way you can get the emergency number to call to arrange your appointment.
In many cases, particularly if a tooth has been knocked out, time is of the essence. Seeing your dentist within one hour will greatly increase the chances that your tooth can be saved. However, if you can't make it within that timeframe – don't panic. There are always treatment options to restore your smile!
About the Author
Dr. Jonathon Mears and Dr. Laura Mears are a husband and wife team who are dedicated to providing comprehensive dental care to their community. They know that life doesn't always go according to plan and strive to make emergency care a top priority. They can be reached for questions via their website or at (636) 464-6668.