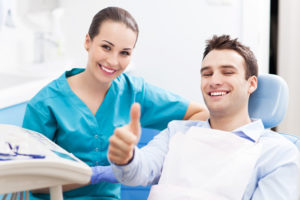 You might have initially thought your sensitive teeth wasn't something to worry about—well, until you had your last dental visit. After finally receiving the dental exam you've been needing, your dentist in Arnold was able to spot a dark spot in your smile. That's right…a dreaded cavity.
If you're unsure of what to do next, this post is for you. We're going to explain a little about cavities and the best way to treat them to repair your smile's health.
What causes a cavity?
The root cause of cavities is tooth decay. If you know anything about decay, you'll know that it develops overtime from plaque accumulation. First, plaque forms on the teeth from the foods we eat, existing bacteria in the mouth, and leftover materials in the mouth. The sticky film lies over the teeth and ban harden to tartar if not removed.
Overtime, the plaque will accumulate if you don't practice excellent brushing and flossing habits. This helps to remove plaque from the smile. Tartar is removed from the professional cleaning that your dentist provides every 6 months.
However, if you don't practice preventive care as if you're supposed to, eventually the nasty materials will take a toll on the teeth. Cavities—or pits of decay—will form throughout your smile.
What are the symptoms of a cavity?
Because the signs of tooth decay take a while to show, you should get assistance from a dentist. When you begin to feel these signs of a cavity, that means that your tooth decay has settled into the tooth.
Toothache
Spontaneous tooth pain
Tooth sensitivity
Mild to sharp pain when eating or drinking something sweet, hot or cold
Visible holes or pits in your teeth
Brown, black or white staining on the surfaces of your teeth
Pain when you bite down
How can a dentist help with your cavities?
When you show the signs of a cavity, your dentist will offer to help you clean out the decay from the affected area and use a filling to repair your tooth.
Your dentist will evaluate the area, determine that decay is the cause of your problems, and then prepare your tooth for a filling. Tooth-colored fillings are used in today's modern dentistry for a variety of reasons, including their aesthetic benefits because they match your tooth naturally. You can have a perfectly good tooth once again without anyone knowing that you've had a cavity in the past!
Do you have sensitivity, but don't know where it's coming from? Get the assistance you need from a dentist near you!
---
About Our Office
Here at JL Dental, we know that even though teeth were created to last a lifetime, there are dental problems that occur from time to time. That's what we're here for—to help you! Give us a call anytime you feel dental discomfort. We would be more than happy to help you find the best fitting solution, just like tooth-colored fillings for dental decay. Learn more about how we may be able to assist you by giving our office a call.