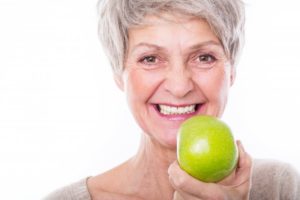 When you're looking to replace your teeth, you have to consider a few different things. How will my existing conditions affect my replacement teeth? Can I improve my current health with replacement teeth? Which restorative option will provide the longest lasting results?
If you're looking for the best dental restoration for tooth loss, dental implants in Arnold are hands-down the best option. They provide a solution with proven longevity and even improve the current state of your mouth and body. Learn more about the benefits of dental implants and how they can help improve your well-being in this week's blog post.
Did You Know That Dental Implants Improve Current Conditions?
If you have missing teeth, you know that your bone density could be at stake. In fact, osteoporosis is a condition that affects a person's bone health, causing the bone tissue throughout the body to become weaker over time. This condition is one of many consequences that come with severe tooth loss.
Typically, the type of mediation that your normal doctor may prescribe could worsen the condition. These medications are known as bisphosphonates—but for already fragile bones, this class of drugs can actually cause the bone to die with decreased blood flow.
Thankfully though, a research study found that with the help of dental implants, bone health could actually be restored! Many patents think that because their bone health is declining or because they have osteoporosis that their implant placement may fail (as the implant post is normally put into the jawbone for stability), but in reality, you might experience the opposite—an improvement in bone health!
This is because of the stimulation that dental implants provide. Implants work to replace a tooth both above the gum line and below, working as a replacement tooth root. This implant post keeps blood flowing and promotes healthy chewing, both things that keep your mouth healthy and strong.
Should You Get Dental Implants?
If you have osteoporosis, you shouldn't shy away from working to replace your missing teeth with dental implants—you're actually encouraged to do so! These are also some other examples of patients who make great dental implant candidates:
A great candidate for dental implants will have healthy gums free of gum disease.
A good candidate for dental implants will have good jawbone strength or wish to improve their current jaw bone density.
Good dental implant candidates will have a real commitment to great oral health, promising to visit their dentist in Arnold for regular dental and implant maintenance care.
Interested in finding out how dental implants can improve your oral and overall health? Don't wait to get in touch with your implant dentist—we can't wait to help you!
---
About Our Office
Here at JL Dental, we work to make sure our patients have complete, healthy smiles for a lifetime. Even if you experience bone loss, tooth loss—even both—we're here to assist you on your journey to optimal oral health again. Call us today to get started with your restorative care.