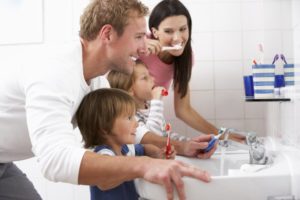 Just because you brush your teeth every day, doesn't mean that your smile is in it's best condition. In fact, it's health could be declining because you're forgetting (or intentionally ignoring) this crucial step in your dental hygiene routine: flossing!
Your dentist in Arnold is here to explain why flossing is so important to maintaining your smile in this week's blog post. Keep reading to learn more about the correct techniques!
Skip Flossing and Risk Losing Your Teeth!
Did you know that you could risk missing up to 35% of your tooth's surface when cleaning your teeth if you don't floss? Just think about that for a second…all that leftover plaque, dental bacteria, and even food stuck between your teeth.
These substances can harden into tartar on the teeth and along the gum line, which can lead to decay and even gum disease. Both of these dental issues can result in tooth loss over time.
How Can You Improve Your Flossing Habits?
The best way to boost your flossing is to simply become dedicated to flossing just one time a day. Sure, it's better to do it more often if you can, but flossing once a day can instantly improve your oral health. Plus, you should be sure to use the right techniques as to avoid  injuring your soft tissues.
Here are 5 easy steps to remember when flossing:
Be sure to pull out at least a foot of floss to 18 inches so that you have enough floss to use for your whole mouth.
Wrap the floss around your fingers so that there is tension to fit the floss between your teeth.
Carefully insert the floss between teeth, slowly if you have to. You shouldn't injure your gums when flossing.
Move the floss back and forth slowly to release the plaque, bacteria, and food between teeth.
Remove the floss by sliding it back up and pulling the debris from between each of your teeth.
Need Help? Rely On Your Dentist.
If you think flossing is a solo task, you actually have more help than you think. If you struggle with flossing, your local dentist is always here to help you understand how to do it better. All you have to do is ask for assistance!
A local dental practice can help with a hands-on demonstration, give great advice and tips to improve flossing at home, and even recommend products (like a water pik) that can make flossing easier all during your dental visits.
---
About Our Office
Here at JL Dental, our goal is to help each of our patients keep their teeth and gums in the best possible shape. Although it's your job to maintain them at home, we want to make sure that you have the tools, resources, and knowledge to do so effectively. Contact us today to learn more!