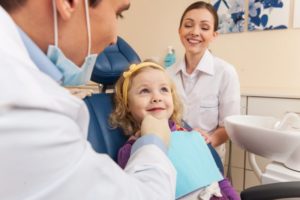 Taking care of your teeth and gums is important to living a healthy, fulfilling life. With that in mind, here are 10 lifetime dental habits to teach your kids, brought to you by a children's dentist in Arnold. These guidelines can help your children to grow up with bright smiles on their faces.
What Every Child Must Know about Good Tooth Care
Think of these as your family's own personal top 10:
Brush at least twice-daily and floss at least once-daily. Using mouthwash or oral rinse after and in between brushings is a smart idea as well.
Stay away from sugary beverages. The average American consumes far too much sugar in an average day, according to healthcare experts. Teach your children to steer clear of non-diet sodas, sugar-filled drink mixes, and similar products.
Drink plenty of good, fresh water. There's nothing like H2O to keep the body hydrated. Water is essential for making saliva, which plays an important role in preventing cavities.
Teach your kids to never share food or drink containers with others. Doing so may expose them to harmful bacteria.
Avoid giving young children a bedtime bottle. The sugar found in most formulas can harm developing teeth and gums.
Encourage good nutrition habits. Starchy, artificially sweetened foods can corrode the layer of enamel that protects a child's teeth. Encourage your kids to eat green, leafy vegetables, reduced-fat cheese and yogurt, and other healthy options.
Teach your kids by example. When they go to the dentist for a cleaning or checkup, go with them and have your own teeth examined during the same visit. Seeing you practice sound dental care habits will give them a positive role model.
Find a good family or children's dentist in your area. A dentist who specializes in adults may not have the knowledge and training needed to treat kids.
Use praise and rewards. For example, you might offer to take your child to her favorite pizza restaurant once a month, provided she brushes twice a day every day.
Teach your children about the dangers of tobacco, alcohol, and illicit drugs. Not only do these substances damage teeth, they can cause all sorts of serious health problems throughout the body.
How to Help Children Overcome Dental Fear
Dental-related phobias are common in American society, usually developing when the sufferer is young. Fortunately, there are many ways to counter these fears in your children. Here are a couple of helpful tips:
Take your child's concerns seriously. Never dismiss your children's unease or tell them to "just grow up." Instead, play the role of a sympathetic and supportive parent, while addressing their fears in a calm, reassuring manner.
Talk about the dentist in positive terms. If your child knows that you're on good terms with the doctor, then he or she is more likely to respond with trust.
It's never too early to help your children develop good dental habits. The seeds you plant today will turn into a lifetime of happy smiles and healthy teeth for your loved ones tomorrow.
About the Author
Dr. Laura Meers has been practicing dentistry for 14 years. For the last seven years, she has been a dentist here in Arnold alongside her husband, Dr. Jonathan Meers . The couple has two beautiful children and a dog named Max. You can reach her office online or by calling (636) 464-6668.