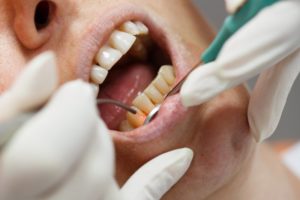 A lot of people are scared of going to the dentist. After all, the sound of a drill can be frightening. If only there were a way to receive the dental care you need without being exposed to that terrifying tool! Fortunately, there is – thanks to laser dentistry. This technology allows you to get the treatment you need for your gum disease or gummy smile, all without the sound or sight of a drill. Let's talk in a little more detail about how exactly laser dentistry works.
What is Laser Dentistry?
Laser is actually an acronym for Light Amplification by Stimulated Emission of Radiation. That's just a fancy way of saying that a laser is a concentrated form of light. These incredibly honed beams of light are easy to control and allow for precise treatment for gum problems. Because the beam cauterizes as it goes, bleeding is minimized. Recovery time is much faster, and it drastically lowers the need for over-the-counter painkillers after treatment. The laser also sterilizes the area and prevents bacterial infections.
What Can Laser Dentistry Treat?
Laser dentistry is very effective as periodontal therapy – that is, treating gum disease. Your dentist will use the laser to remove the inflamed gum tissue from the tooth root. When the root is exposed, the dentist will then perform a root scaling procedure. He or she will scrape excess plaque that has built up below the gum line. This allows the area between the gum and the tooth to regenerate, completely bacteria-free.
Lasers are also great for treating "gummy" smiles – where too much of your gums and not enough of your teeth are visible when you grin. This is generally more of a cosmetic procedure, but it's still very easily done. Your dentist will use the laser to sculpt your gumline into a more desired shape.
Is Laser Dentistry Really Painless?
Your dentist will make sure to numb you up with a local anesthetic before using any lasers, just to be safe. Because there is no need for scalpels, gum surgery with lasers is vastly less painful. Since it also sterilizes the area, there is less chance of a bacterial infection causing discomfort. Additionally, there are no stitches to worry about afterwards, which minimizes itching.
After you receive laser gum surgery, your gums may be a little sensitive for about a week. This discomfort is mild and shouldn't interfere with your daily activities like speaking and eating. During this recovery period, it's best to avoid crunchy or spicy food, as that may irritate the already sensitive gum tissue. Your dentist may prescribe some extra-strength ibuprofen to fight any pain or swelling, but nothing more than that should be necessary.
If the idea of regular dental tools makes you seize up in fear, ask your dentist about using a laser. You might just get the care you need worry-free!
About the Author
Dr. Jonathan Mears achieved his dental degree at Southern Illinois University School of Dental Medicine. Since then he has undergone extensive postgraduate training in various areas, including cosmetic dentistry and endodontics, or root canals. He is also certified in laser dentistry. To learn more about how Dr. Mears can treat your gum disease or gummy smile, contact him at (636)-464-6668.