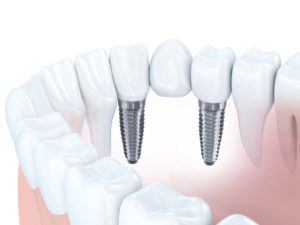 New innovations in dentistry allow natural teeth to be preserved much longer than in the past, but tooth loss is still a common problem. In fact, at least 120 million Americans are missing at least one tooth. If you're like many people, you chose a traditional fixed bridge to fill the empty space. Although it worked for a few years, your dental bridge is failing. If you need to have it replaced, it may be time to consider dental implants. You'll enjoy the next best thing to your real teeth while having a solution that can last for several decades.
Fixed Bridge VS Implant-Supported Bridge
A fixed bridge is the most traditional solution to replace one or more consecutive missing teeth. Your dentist takes an impression of your mouth to replicate the teeth you've lost. The dental lab creates the bridge to match the appearance of your natural teeth to blend in seamlessly when you smile. Your adjacent teeth are reshaped to allow dental crowns to be bonded over them to hold the bridge in place.
Although this is a convenient and effective solution, it only replaces the crowns of your teeth. Not to mention, it needs to be replaced every few years. As an alternative, many people are choosing an implant-supported bridge. Instead of using crowns to hold it in place, an implant post is used at either end to support it. This replaces the entire tooth structure, allowing you to enjoy unmatched benefits when compared to a fixed bridge.
Benefits of Implant-Supported Bridge
Replacing both the root and the crown of a tooth provides the next best thing to your real teeth. Overall, you will enjoy:
High Success Rate: Dental implants have over a 95% success rate to last for several decades.
Looks Natural: All-ceramic material is used to ensure your bridge looks natural.
Feels Natural: Regain as much as 70% of your natural biting force,
Preserves Bone Density: The implant posts stimulate your jaw to stop bone loss. This preserves your natural teeth to improve your oral health.
Doesn't Alter Healthy Teeth: You don't need to permanently reshape healthy teeth to support the bridge.
Cost-Effective: Dental implants are more affordable long-term because they should never need to be replaced with the right aftercare.
Rebuild Your Smile Today!
If you're ready to enjoy a lasting solution to replace your missing teeth, an implant-supported bridge may be for you. You'll need an initial consultation to ensure you're a candidate for the procedure. You'll undergo a multi-phased treatment process. Don't worry, it's time well-spent to ensure your new smile lasts for a lifetime.
About JL Dental
Dr. Jonathan and Dr. Laura Mears met in dental school and have been married ever since. They combine their passion for dentistry to provide our patients with world-class care. Our office offers personalized solutions using the latest advancements in the field, including dental implants. If you're ready to replace your missing teeth, contact our office today to schedule your consultation.