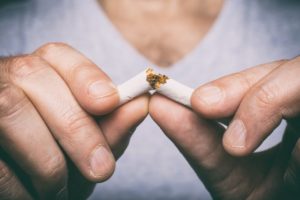 If you're a smoker, you're probably already aware of the plethora of reasons why you should kick the habit. You've heard about all the havoc that smoking can wreak on your lungs, but what about the ways it affects your mouth? It's fairly common knowledge that tobacco use increases your risk of developing gum disease and oral cancer. However, a recent nearly 30-year study of over 800 men indicates that it may also increase your chances of needing a root canal in the future. What exactly is this relationship between smoking and oral healthcare? Continue reading below to find out.
The Connection Between Smoking and the Need for Root Canal Therapy
According to the aforementioned study, current and former smokers needed root canals at nearly twice the rate of the men who had never touched a cigarette. Root canal therapy is required when bacteria make their way into the inner portion of the tooth, called the pulp. Cavities, as well as chips or cracks in a tooth, can make this more likely to occur. Under normal circumstances, the body works to fight off this bacterial invasion inside the tooth.
However, tobacco use hinders the body's ability to combat infection, leaving teeth more vulnerable to attacks from bacteria. Furthermore, smoking can cause jawbone deterioration, decreased vascular function, and lower oxygen levels in the blood – all of which contribute to a higher chance of needing root canal therapy.
If I Smoke, Will I Need a Root Canal?
Not necessarily. The research suggests that the longer you smoke, the more likely you are to need a root canal down the line. In addition, the longer you abstain from the habit, the lower your chances of needing this treatment. Obviously, non-smokers are best off in this scenario, but you can still drastically improve your oral health if you quit smoking as soon as possible.
How Can I Prevent the Need for a Root Canal?
The most common reason why people need root canals is poor oral hygiene. When you don't brush and floss as often as you should, bacteria can more easily accumulate in your mouth and cause cavities through which they can reach the tooth's pulp. For this reason, you should brush twice daily and floss at least once a day. Additionally, you should attend dental checkups and cleanings on a regular basis. At these appointments, your dentist can detect cavities before they reach this point, so all you have to undergo is a filling instead of a root canal.
Having to get a root canal isn't the end of the world. However, it is a time-consuming and often costly procedure that can usually be prevented by being proactive about your oral health, and that includes quitting smoking. If you need help quitting, don't be afraid to ask your dentist for resources. They should be more than happy to help!
About the Author
Dr. Laura Mears is a dentist in Arnold, MO who earned her Doctor of Dental Medicine degree from the Southern Illinois University School of Dental Medicine. She's incredibly passionate about continuing education and has pursued advanced training in several areas of dentistry, including endodontics, or root canal therapy. She loves being able to help her patients achieve healthy smiles in a warm and welcoming environment. To learn more about whether you might need a root canal, or if you need help quitting smoking, contact Dr. Laura at 636-464-6668.