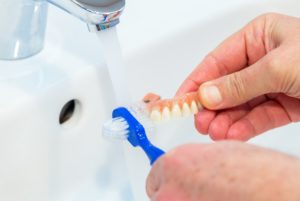 If you've lost all your natural teeth in an arch, a denture is a convenient and effective method to rebuild your smile. Innovations in dentistry make them look more realistic than ever, but just like your natural teeth, they can discolor when exposed to various factors, like coffee or smoking. You can turn back the clock by whitening your dentures using a few simple tips.
What Causes Dentures to Discolor?
Modern dentures are made of acrylic, which is a durable material that's also aesthetically pleasing. Unfortunately, it is known to stain. The foods and drinks you consume can leave a lasting mark, like tea, red wine, or blueberries. Besides your diet, smoking is another contributor because of the nicotine and tar found in cigarettes.
3 Options for Whiter Dentures
If you notice your smile isn't as bright as it used to be, here are 3 ways you can restore your dentures.
Focus on Prevention
Daily cleaning is the best way to keep your dentures white. Use a soft-bristled toothbrush to remove any food particles and plaque at least once a day. Clean all surfaces using a clear soap or denture cleaning toothpaste.
Purchase a denture cleaner to remove stains at home. It's best to use it only after you've thoroughly cleaned them to ensure consistent results. Use the cleaner according to the manufacturer's guidelines to prevent any damage.
Use an Ultrasonic Cleanser
An ultrasonic cleaner is the most effective way to whiten your dentures. Your teeth are placed in a special apparatus that uses ultrasonics to remove stains. The device relies on high-frequency vibrations to loosen even the smallest of food particles to give you a clean, bright smile.
As another means to reverse discoloration, you've probably seen a few online videos using bleach to whiten dentures. Bleach is diluted with water, so it isn't any stronger than 5%. While it is effective, it can be risky if it isn't done correctly.
Tips for Whitening Dentures
You don't want to accidentally harm your denture while trying to revitalize your smile. Here are a few easy tips to maximize your results:
Don't soak your denture in a cleaning solution overnight more than 1 time per week to prevent bleaching out your smile.
Do not use abrasive dental products to prevent causing scratches on your denture.
Don't soak your denture in bleach for more than 15 minutes.
Achieve a Bright Smile
If you want your dentures to look their brightest, it's best to commit to your dental hygiene at home. If you don't achieve the results you want, it's time to turn to a professional. Your dentist can help treat discoloration to bring back your beautiful smile.
About Dr. Jonathan Mears
Dr. Jonathan Mears earned his doctorate at the Southern Illinois University School of Dental Medicine. He has also completed advanced training in many areas of specialty, like restorative services. He has the solutions you need to replace your missing teeth. Contact our office today to schedule your consultation.