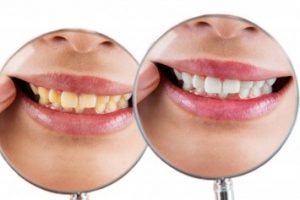 Veneers are one of the most popular cosmetic treatments available today. They offer a solution for multiple dental imperfections including gaps, tooth discoloration, chips and fractures. Due to the beautiful porcelain they are crafted from, veneers are also naturally white. This non-porous material makes them almost stain-resistant, but over time, the surfaces and materials that bond them to your tooth can begin to take on a tint. Once this occurs, many wonder how to restore them to their original appearance. Is there an option to whiten your veneers? Keep reading to find out! 
What Caused Your Veneers to Change Color?
It isn't easy for veneers to stain, but after prolonged exposure to tannin-rich drinks like black tea, red wine or coffee, your new smile can start to take on a yellow or brown tint. Tannins are bitter-tasting compounds that are found in grape skins, stems and seeds that give foods and drinks their deep coloring. Other causes for discoloration can include age, dental trauma and the amount of time you've had your veneers.
Can You Whiten Porcelain Veneers?
The short answer to this question is no. Traditional whitening treatments do not work well on veneers. The good news, however, is that there are ways to help brighten your smile. Depending on the severity of the staining, a professional dental cleaning can help remove or at least lighten the appearance of discoloration. This is another reason why it is so important to visit your dentist regularly. If after a few cleanings the stains have not lightened, another option is to replace your veneers. 
Taking proper care of your veneers will help keep your smile bright and beautiful. This simply means caring for them as though they were your natural enamel. Make sure you are brushing for two minutes twice a day, flossing at least once and visiting your dentist at least twice a year. If you love dark-colored beverages, brushing your teeth or drinking plenty of water after consuming them will help protect your veneers from discoloration. Following these steps to keep your teeth free of stains will give you the ability to feel confident every time you smile.
About the Practice
Drs. Jonathan and Laura Mears are committed to providing personalized, comprehensive dental care to every patient who enters the doors of JL Dental. They met while attending dental school at Southern Illinois University and have been together ever since! Jonathan and Laura are dedicated to continuing their education through many different courses. The knowledge they acquire provides them with the ability to use modern techniques and technology to diagnose and treat a wide range of dental health issues. JL Dental offers a variety of dental services from preventive treatments, cosmetic dentistry treatments, emergency dentistry and more. If you're ready to renew your gorgeous smile, contact the office at (636) 464-6668 or visit the website to schedule your appointment today!