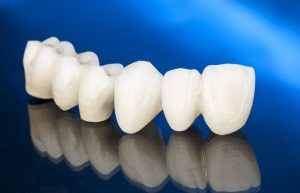 If you've lost a tooth or two over the years, your dentist likely recommended a dental bridge in Arnold to rebuild your smile. Combining a bridge with crowns is a tired-and-proven solution to treat consecutive tooth loss. Although you'd like to fill the gaps in your smile, you might be concerned about the longevity of the restoration. There isn't any need to worry. New technologies and materials allow bridges to last for longer than ever. Here's the lifespan you can expect from your new smile.
What is a Dental Bridge?
Dental bridges have been used for decades to replace one or more lost teeth in a row. An impression of the mouth is used to recreate the portions of the missing teeth above the gum line. The new teeth are carefully crafted to match the appearance of the real teeth to look natural. The bridge is held in place using either crowns or dental implants.
Types of Dental Bridges
You have more options than ever to replace missing teeth. Besides traditional treatments, like a bridge and crowns, you can also choose from implant-supported options. Since both methods differ, it's best to consider the lifespan of each:
Bridge and Crowns
Typically, a bridge is held in place by reshaping the adjacent teeth to bond dental crowns over them. Modern bridges can last for a decade or longer with the right oral hygiene routine. The University of Rochester Medical Center encourages patients to practice good oral hygiene at home and visit their dentist regularly to ensure their restoration thrives for many years before needing to be replaced.
Implant Bridge
More patients than ever are choosing to support their bridge with 1-2 dental implants. This method is unlike the previous one because it replicates the entire structure of the teeth, including the roots. Titanium posts are surgically placed into the jaw to act as roots. The bridge is secured to the posts using abutments, so you won't need to alter healthy teeth. The bone will fuse to the posts through a process called osseointegration. As a result, they have the potential to last for decades with the right aftercare, like maintaining your oral hygiene. An implant-supported bridge is the most predictable solution to treat tooth loss with over a 95% success rate to last for 30 years or longer.
Which is Right for Me?
Choosing a tooth replacement treatment is a big decision. Your dentist will explain your options to feel confident in the decision you're making for your smile. They'll help you invest in a lasting solution to enjoy a beautiful smile for many years to come.
About Dr. Jonathan Mears
Dr. Mears has over 14 years of experience in dentistry. He earned his dental degree at the Southern Illinois University School of Dentistry and has completed advanced training in many specialties, like dental implants, endodontics, and cosmetic dentistry. He combines his training with state-of-the-art treatments to help his patients achieve their best smiles. If you're ready to replace your missing teeth, contact our office today for a consultation.