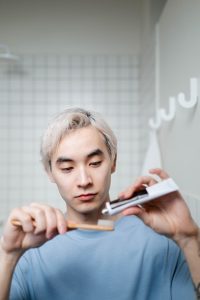 If you've invested in veneers, your stunning smile can last for 10 to 15 years before needing to be replaced. Although the thin shells cover the front surfaces of your teeth, that doesn't mean you can stop brushing or flossing. While your veneers aren't vulnerable to cavities, your underlying teeth are still at risk of tooth decay, which can cause your new smile to fail. Thankfully, maintaining your veneers is easy to get the most from your investment.
1. Choose the Right Dental Products
Veneers are durable, but they aren't indestructible. Using the wrong dental products can damage the restorations, like a hard-bristled toothbrush. Abrasive products can strip off the shiny coating on your veneers, causing them to look discolored. Not to mention, they can cause small scratches that can trap bacteria and food particles, which can weaken your veneers over time and tarnish their appearance. It is best to use a soft-bristled toothbrush and nonabrasive toothpaste to keep your smile clean.
2. Commit to Your Oral Hygiene
Your home oral hygiene habits are your first line of defense against common dental problems, like cavities. The American Dental Association recommends brushing for at least two minutes twice per day, if not after every meal. Besides brushing, floss between each tooth and around the gum line. Flossing is crucial to preventing periodontal disease and decay where the veneer meets the gum tissue.
3. Limit Sugar Consumption
Sugary foods and drinks bathe your teeth in bacteria that create an acidic plaque. Over time, it can erode your enamel until a cavity forms. Limiting your consumption of sugars and starches will safeguard your enamel from decay. If you can't skip eating a cookie or drinking a soda, rinse your mouth with water if you can't get to your toothbrush.
4. Visit Your Dentist Regularly
Regular dental care is vital to promoting the lifespan of your veneers. A cleaning allows your dental team to remove any buildup that can cause tooth decay or gum disease. During your checkup, your dentist will examine your mouth to look for any concerns. By monitoring your smile regularly, they can treat the issue before it turns into a big problem that might cause your veneers to fail.
5. Break Any Bad Habits
Besides protecting your veneers from the consequences of decay and gum disease, your cosmetic dentist will recommend breaking any bad habits, like smoking, using your teeth in place of scissors, or chewing on your fingernails.
Although you don't have to worry about your veneers getting cavities, your natural teeth are still at risk. You've invested a lot of time and money to achieve your new smile. You can ensure it thrives by committing to the correct aftercare.
About Dr. Jonathan Mears
Dr. Mears earned his dental degree at the Southern Illinois University School of Dental Medicine and has completed extensive education in many specialties, like cosmetic dentistry, dental implants, and orthodontics. He can help you achieve the healthy, attractive smile you desire. Contact our office today to request your consultation.