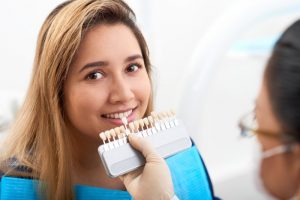 Have some of your teeth clearly seen better days? If you're looking to fix stained, worn, misshapen, or otherwise flawed teeth, your dentist has plenty of options. Two of the most common and versatile of these solutions are dental crowns and veneers. They're both fairly similar, but they also have a few key differences that make them better suited for different situations. If you need help deciding between veneers and crowns, keep reading below!
But First, What Exactly Are Veneers and Crowns?
Veneers and crowns are types of dental restorations designed to cover up a section of a tooth. A crown caps the entire tooth, while a veneer merely conceals the front-facing surface. While both of them are often made from porcelain, crowns are sometimes made from metals like gold or porcelain-fused-to-metal. Both restorations require that the underlying teeth be slightly reshaped so that the results look and feel natural. Additionally, both treatments require minimal maintenance, and the results can last for 10-15 years or longer on average.
Differences Between Dental Crowns and Veneers
To determine whether crowns or veneers are ideal for your unique situation, it's important to examine some of the major differences between the two, which include:
Purpose – Because crowns cover a larger portion of the tooth, they're more effective at protecting the enamel from damage and sensitivity than veneers. So, crowns are typically recommended for weaker or vulnerable teeth, while veneers are usually placed for solely aesthetic reasons.
Tooth preparation – Crowns are larger than veneers, meaning that your dentist has to remove more enamel prior to placing a crown than they would for a veneer. Tooth enamel does not grow back, so veneers are a more conservative treatment in this regard. However, keep in mind that a crown may protect the tooth underneath it in ways that a veneer cannot. So, a crown may actually help your tooth last for longer.
Cost – The cost of veneers and crowns can vary significantly from case to case, but generally speaking, veneers tend to come with a higher price tag. Often, this is due to the fact that crowns provide some oral health benefits, so dental insurance is more likely to cover part of the cost. Veneers, on the other hand, are almost always considered elective, so they rarely qualify for any insurance coverage.
Veneers or Crowns: What's the Right Treatment for Your Smile?
You can research the topic all day, but ultimately, the only way to know for sure whether you should receive veneers or crowns would be to talk with your dentist. Both treatments can be great solutions for imperfect teeth, and your dentist would be more than happy to discuss their unique benefits and which one would better suit your smile. Call your dentist today to schedule your consultation!
About the Practice
Drs. Jonathan and Laura Mears met while in dental school at Southern Illinois University. Today, they work together as husband and wife at JL Dental, providing comprehensive yet down-to-earth dental care for families in Arnold, MO and the nearby communities. They proudly offer lifelike dental crowns and veneers, and they can gladly help you decide which one is right for your smile. To get started, you can contact their office by calling (636) 464-6668.